The Community Against Preventable Injuries is excited to be making waves in the Atlantic Provinces. Preventable's success comes from high quality, purposeful partnerships, and we're pleased to be working with our newest key partner, the Atlantic Collaborative on Injury Prevention (ACIP), to bring our message to Atlantic Canadians.
The human and financial toll of preventable injuries is alarming. Every year, thousands upon thousands of Atlantic Canadians suffer injuries that could have been prevented. Preventable injuries are one of the largest burdens on our health care system, with estimated costs of almost $1.7 billion a year to the Atlantic provinces – funds that could be put to far better use elsewhere.
Every year in Atlantic Canada:
More than 200,000 Atlantic Canadians seek medical attention for an injury.
Over 15,000 are hospitalized, while some 890 die.
In fact, preventable injuries are the leading cause of death for Atlantic Canadians aged 1-44 years.
Preventable is a collaborative and innovative partnership between businesses, government, and community groups whose combined energy, effort, and resources are focused on building awareness, shifting attitudes, and changing behaviours towards the causes of serious preventable injuries.
There's much more that you can do to help reduce the burden of preventable injuries. Contact our partners in Atlantic Canada to learn how your organization can join The Community:
Contact Jennifer Russell, Executive Director
Atlantic Collaborative on Injury Prevention
(902) 424-3384
Many thanks to the following Atlantic community leaders for their significant financial contributions that help Preventable and ACIP to raise awareness and change attitudes about preventable injuries in Atlantic Canada:
Atlantic Worker's Compensation Organizations
Chalmers Hospital Foundation
New Brunswick Medical Society
New Brunswick Trauma Program
Newfoundland and Labrador Injury Prevention Coalition
Government of Newfoundland and Labrador
Government of Nova Scotia
Government of Prince Edward Island
Insurance Bureau of Canada
Saint John Regional Hospital Foundation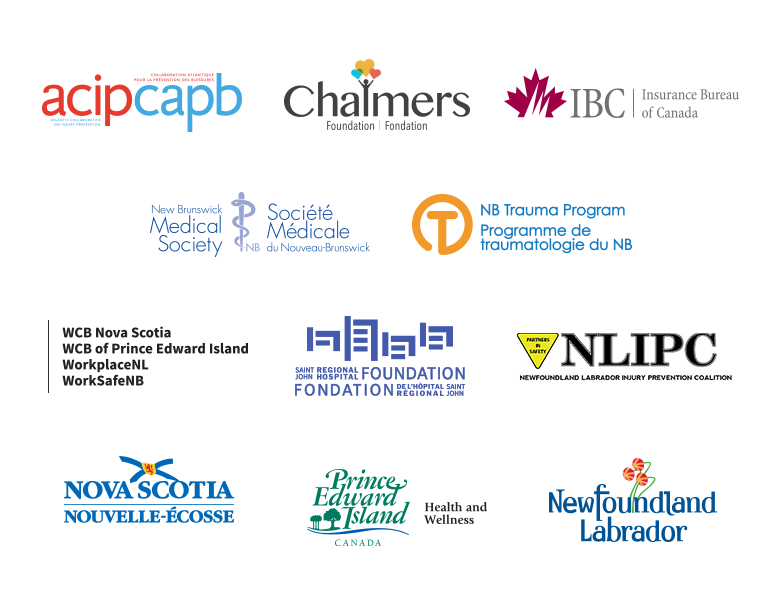 ---
Joignez-vous la collectivité Preventable du Canada atlantique
La collectivité The Community Against Preventable Injuries (Preventable) est heureuse de faire des vagues dans les provinces de l'Atlantique. Le succès de la collectivité Preventable est attribuable à des partenariats ciblés et de haute qualité, et nous sommes ravis de travailler avec notre nouveau partenaire clé, la Collaboration atlantique pour la prévention des blessures (CAPB), pour diffuser notre message aux personnes du Canada atlantique.
Les répercussions humaines et financières que représentent les blessures évitables sont alarmantes. Chaque année, des milliers et des milliers de personnes au Canada atlantique subissent des blessures qui auraient pu être évitées. Les blessures évitables sont l'un des plus importants fardeaux sur notre système de santé. Dans les provinces de l'Atlantique, on estime les coûts liés aux blessures évitables à près de 1,7 milliard de dollars par année, soit une somme importante qui pourrait être bien plus utile ailleurs.
Chaque année au Canada atlantique :
Plus de 200 000 personnes au Canada atlantique obtiennent de l'aide médicale pour une blessure.
Plus de 15 000 d'entre elles sont hospitalisées, et quelque 890 d'entre elles meurent.
Au Canada atlantique, les blessures évitables sont la principale cause de décès chez les personnes âgées de 1 à 44 ans.
La collectivité Preventable est un partenariat collaboratif et novateur entre le gouvernement, des entreprises et des groupes communautaires qui mettent en commun leur énergie, leurs efforts et leurs ressources afin d'accroître la sensibilisation, à modifier les attitudes et à faire évoluer les comportements envers les causes de blessures graves pouvant être évitées.
Vous pouvez en faire beaucoup plus pour aider à réduire le fardeau lié aux blessures évitables. Communiquez avec nos partenaires au Canada atlantique pour savoir comment votre organisme peut se joindre à la collectivité Preventable :
Personne-ressource : Jennifer Russell, directrice générale
Collaboration atlantique pour la prévention des blessures
902-424-3384
Nous remercions les dirigeants communautaires de l'Atlantique ci-dessous pour leurs contributions financières importantes qui aidera la collectivité Preventable et la CAPB à accroître la sensibilisation et à changer les attitudes en matière de blessures évitables au Canada atlantique.
Organismes d'indemnisation des victimes d'accidents du travail
Fondation de l'Hôpital régional Dr Everett Chalmers
Société médicale du Nouveau-Brunswick
Programme de traumatologie du Nouveau-Brunswick
Coalition pour la prévention des blessures de Terre-Neuve-et-Labrador
Gouvernement de Terre-Neuve-et-Labrador
Gouvernement de la Nouvelle-Écosse
Gouvernement de l'Île-du-Prince-Édouard
Bureau d'assurance du Canada
Fondation de l'Hôpital régional de Saint John