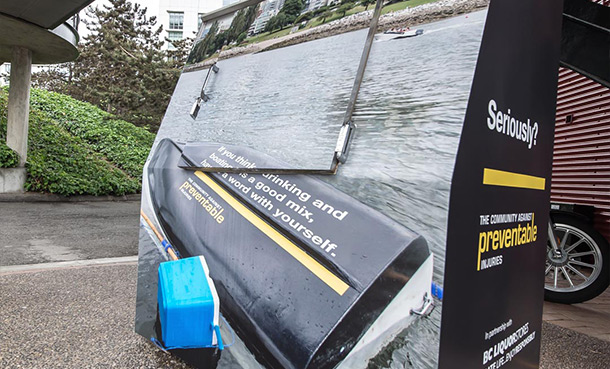 Drinking and boating: they don't mix. As in, at all.
As the weather (and the water) gets warmer, Preventable is passing on this simple message to all BC boaters.
We're challenging BC boaters to re-think their attitudes toward staying safe on the water—and to re-consider whether drinking and boating is all that smart of an idea.
It's an important message. Every year in BC, approximately 28 people drown in a lake, river or ocean – 32% of these deaths are related to boating activity. In fact, more than 40% of boating related fatalities are alcohol related. That's not surprising, considering that research shows that those on the water can become impaired twice as fast as someone on land, due to the motion of the waves, the intensity of the sun, and the effect of wind and glare.
We're reminding BC boaters to get out on the water and have a great time, but save the drinks for once you've docked.
Citations:
BC Vital Statistics Agency, Retrieved from Injury Data Online Tool (iDOT), BC Injury Research and Prevention Unit.
BC Drowning Report 2016 Edition. Prepared for the Lifesaving Society Canada by the Drowning Prevention Research Centre. Available from: http://www.lifesaving.bc.ca/2016-british-columbia-drowning-report