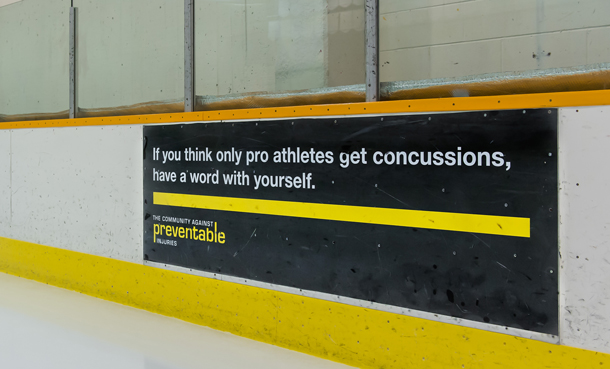 Concussions. Think they're the type of injuries that only happen to pro athletes? Maybe it's time to give it more thought. That's what Preventable is hoping British Columbians will do because the idea that concussions only happen to elite-level players couldn't be further from the truth.
The fact is, no one is immune to concussions. Not a single person. Between 2006-2010, there were 2427 hospitalizations in BC due to concussions – that's an average of 485 cases per year. In 2009, BC Children's Hospital emergency department saw 1402 cases of children and youth with concussion and minor head injuries. A staggering number, to say the least.
A concussion is defined as a brain injury caused by a direct or indirect blow to the head or body. We still have a lot to learn about concussions but what we do know is that a change in brain function occurs – resulting in a variety of non-favourable symptoms, such as headaches, memory loss, blurred vision, sensitivity to light, confusion, irritability, and difficulty in concentrating, to name just a few.
We also know that no two concussions are the same. As such, the signs and symptoms might be a little different for each person. Often concussions go untreated, as some of the typical concussion signs and symptoms can be so subtle that they go unnoticed to casual observers.
To bring attention to how concussions can happen to anyone, Preventable has launched a campaign that targets "the everyday athlete" and by association, the "everyday parents and fans." We're doing this through community hockey rink boards and posters, with a clear, straightforward message "If you think only pro athletes get concussions, have a word with yourself."
At Preventable, we realize that concussions happen. But we also believe that in many cases – during a public skate or hockey game, for instance – concussions can also be prevented. If we all start thinking about our actions, we can begin to lower the number of head injuries and concussions.